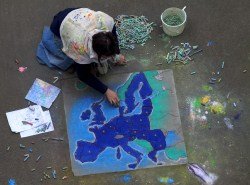 Concorso Giovani "Europeans involved" – Scad. 31.8.13
Il concorso dal titolo "Grenzerfahrung Europa – Jumping the borders and boundaries" prevede due categorie: video e scrittura. Potete esprimere la vostra concezione di "frontiera" e "confine" in un breve video o in un componimento, una storia o un resoconto. Per partecipare basta registrarsi sul sito youthreporter.eu e caricare il proprio video clip e/o testo. Il proprio elaborato rimarrà online e potrà essere visto e votato da amici e visitatori, fino al 15 Settembre 2013. Possono partecipare giovani europei dai 13 ai 30 anni. Sono caldamente invitati a partecipare giovani che hanno fatto un'esperienza all'estero con Gioventù in Azione, partecipato ad uno scambio di Servizio Volontario Europeo o qualsiasi altro progetto nella UE. Il testo e il video con il maggior numero di voti vincerà il premio del pubblico di 200 euro. Premi video: 1° posto 700 euro, 2° 500 euro e 3° 400 euro. Premi scrittura: 1° posto 700 euro, 2° 500 euro e 3° 400 euro.
Scadenza: 31 Agosto 2013.

Scadenza: 31/08/2013
https://asseimprenditori.it/wp-content/uploads/2013/05/europa_quadro_strada.jpg
185
250
admin
https://asseimprenditori.it/wp-content/uploads/2021/03/asseimprenditori_logo.jpg
admin
2013-05-08 08:17:50
2013-05-08 08:17:50
Concorso Giovani "Europeans involved" – Scad. 31.8.13